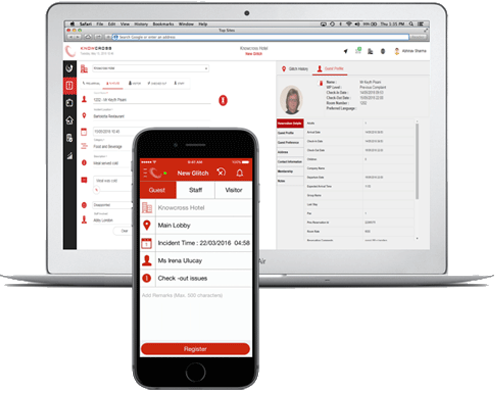 Identifying problems before they happen
Knowcross Glitch
Knowcross Glitch allows hotels to capture, track, investigate and satisfactorily resolve service issues that inconvenience guests. Service breakdowns can be investigated and recovered while guests are still in the hotel, thus significantly reducing guest dissatisfaction.
A quick product overview
Through this short video, experience Knowcross Glitch as it facilitates tracking and resolution of guest complaints minimizes compensation, and maintains guest loyalty.
Improvement of guest loyalty by almost instant problem resolution
Creation of accountability
Redefinition of processes and training needs
Visual reliance of images and documents associated with incident reports
On-the-go availability and enhancements with its integration to Knowcross Mobile

Auto create Glitch for specific complaints logged in Knowcross Service

Write back Glitches to guest profile and have the information available in pre-arrival report

Track, investigate and conclusively resolve guest complaints and service breakdowns

Send dynamic alerts based on different categorizations to guest-facing staff

Comprehensive reports to analyze frequent and recurring service issues

Track service recovery costs

Log Glitch for visiting/in-house/pre-arrival/checked-out guests and also for staff
Testimonial
"Knowcross gives us the analysis [to go deeper in understanding first what's happening...]
"Alessandro Redaelli"

GENERAL MANAGER
KEMPINKSI HOTEL & RESIDENCES PALM JUMEIRAH