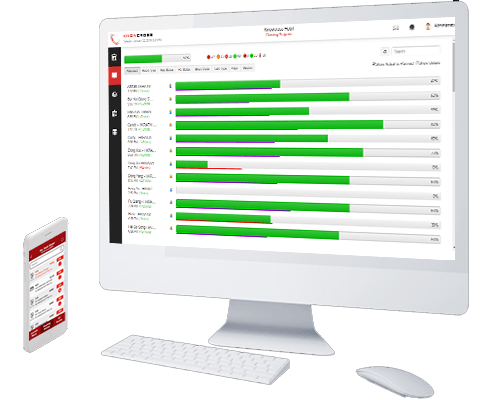 Maximize staff productivity
Knowcross Housekeeping
Streamlines daily housekeeping activities resulting in double-digit improvements in staff productivity, higher guest satisfaction, and a massive reduction in the hotel's carbon footprint. It receives data from and updates the PMS, real-time, and is complemented by powerful Android and iOS apps.

COVID-ready functionalities have been incorporated including task types that follow the "sanitation > full cleaning > sanitation" cycle after departure, Staff Health Console, and the new My Health mobile module ensure the accountability and safety of your staff and guests!
A quick product overview
Through this short video, experience our Knowcross Housekeeping module that automates daily housekeeping activities, resulting in a dramatic increase in productivity and guest satisfaction.
Reduction of task sheet creation time from hours to minutes
Minimized attendant movements between rooms through intelligent routing logic
Reduction of inspection time and focus on quality maintenance through automatic room selection
Real-time tracking of cleaning progress
Maintenance of brand standards through checklists for attendants and supervisors


Staff Health
Assessments and Reporting

Guest opt-out of
room cleaning

Custom alerts to inform
guest of cleaning
progress and completion

Dynamic rule-based room
prioritization while creating
automatic task sheets

Queue room and
turndown service handling

Specials, Traces and
Preferences available on
digital task sheets

Delay and cleaning-event
based alerts for
supervisors and coordinators

Dirty, Clean, Inspected,
OOO, OOS status
update in PMS

Log Maintenance and
Service orders in
KNOW Service

Two-way messaging for
attendants and supervisors


Move-around Time tracking





Testimonial
"Guest satisfaction started to improve. I can't remember the last time I got a complaint..."
"Simon Shaw"

HOTEL MANAGER
HOLIDAY INN LONDON-HEATHROW M4J4.