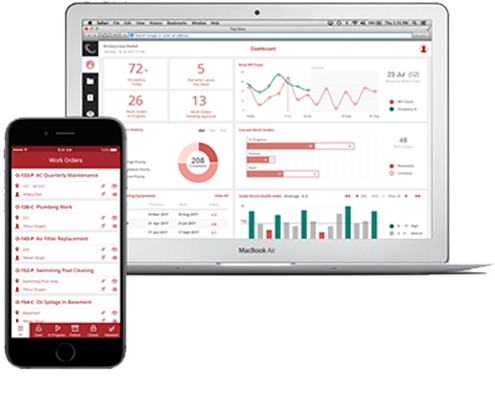 Maintenance requests on autopilot
Knowcross Maintenance
Knowcross Maintenance organizes all engineering responsibilities thus helping with better reporting and analysis. The application employs intelligent automation to increase asset life, reduce downtime and maintenance costs thereby improving staff productivity and enhancing guest experience.
Guest Room Health Index tracking ensures that rooms are in good condition*
Equipment Health Index assists in equipment maintenance, resulting in increased lifetime, decreased downtime and reduced repair costs*
Increased safety due to reduction in equipment malfunction accidents
Enhanced Productivity and better manpower forecasts
Automated processes that reduce paperwork
Powerful reporting to capture detailed PM performance
Time and cost tracking for all work performed on assets
Flexible checklists to capture inputs and progress against each work order

Manage asset types (incl. Rooms), history, maintenance records and cost incurred

Customizable digital checklists including the ability to attach images, pass/fail inspection

Track and Manage complete work order lifecycle


Integrate with Service Request Management, PMS, BMS, FMS, ERP etc.

Reports and Dashboards for trends, costs, staff and asset performance for decisions on repair/replace, overdue PMs & manpower planning

Mobile app for asset information, executing WOs, Add Images and Voice Notes

Create daily/weekly/custom PM schedules for team or individual assignments, auto-scheduling (based on usage/availability) and digital approvals

Access asset records across multiple hotels with analysis on asset health and performance

QR code based asset tagging and actions


Automatically create WO based on asset usage, meter readings and asset health

Plan asset unavailability and staff requirements based on upcoming schedules

Green Initiative, capture critical readings at defined intervals – for water/ energy / gas

Manage inventory and parts and trigger alerts when parts fall below par value

Library for best industry practices

IOT integration for auto-collection of meter readings

Connect with the engineering community and share feedback & best practices