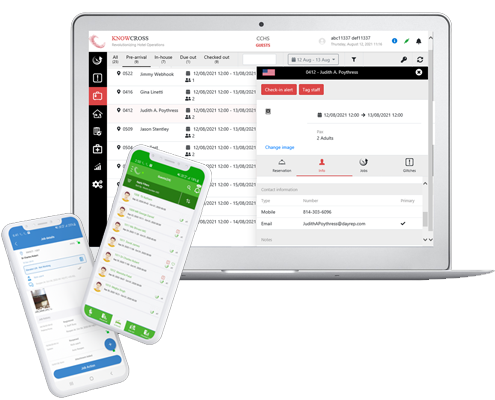 Next-level service
Knowcross Service
Knowcross Service automates the handling of guest requests, complaints and maintenance jobs, thus ensuring high-quality service and high staff productivity. Requests and complaints are logged in either by hotel staff or directly by the guest using an interactive guest application. It brings efficiency to everyday tasks and even uses customized triggers to create automatic jobs and follow-ups on one central system.
A quick product overview
Through this short video, experience the Knowcross Service module and discover a new way to ensure seamless, efficient and successful complaint resolution.
Reduce guest service time
Increase staff productivity
Minimize delays and wrong deliveries
Identify trends and analyze performances automatically
On-the-go availability and enhancements with Knowcross Mobile

Automatic allocation of guest service requests

Automatic alerts and jobs based on custom-defined events

Unified cross-department tracking of guest requests, complaints, and maintenance jobs

Supports multiple wireless messaging systems

Supports multiple PMSs that can trigger alerts or jobs based on check-ins, room moves or preferences

Dynamic escalation logic for unfinished / delayed jobs

Powerful reporting module to view standard and custom reports

Multilingual – supports over 180 languages
Testimonial
"We deal with any issues that arise very quickly and efficiently... "
"Jochem Meijerink"

FRONT OFFICE MANAGER
CORINTHIA