The advantages of mobile-based technology have been long recognized by hoteliers in terms of how such platforms can elevate guest experiences by boosting convenience and personalization while leading to the potential to offer swifter service as well as promotional material. With almost 90 percent of guests indicating that they prefer to interact with a mobile app to manage their entire stay, hotels have found no shortage of ways to meeting changing service expectations. Many properties and major hotel brands around the world in fact now commonly feature mobile check-in, device-based guest-to-staff chat capabilities and more to ensure a competitive edge in adapting to modern guest behaviors.
Yet with the changing makeup of today's workforce which with each day becomes more overwhelmingly represented by millennials and Gen Z, hoteliers are finding that mobile technologies are now also crucial to maintaining heightened efficiency as well as loyal and engaged employees. Influenced by the rise of the gig economy and especially when it comes to scheduling and labor management processes, modern employees are making their voices heard by siding with employers that can offer the flexibility and improved work-life balance that many now prioritize above all else.
It is within this new market environment that leading labor management technology providers have stepped up to introduce mobile-based tools providing both managers and their employees with the ability to meet both individual staff and business needs. As the industry continues to struggle with ongoing labor shortages largely resulting from employees seeking out better opportunities, there has never been a more pressing time for hoteliers to learn how mobile-enabled scheduling and labor management technology can preserve the wellbeing of their business.
Give Your Employees a Say Over Daily Operations
More than ever, employee satisfaction is influenced by the perception that their opinions on day-to-day processes are valued by an organization. To win their loyalty and dedication, they expect employers to take recommendations to heart and nowhere is this perhaps more expected than when it comes to gaining a greater sense of control over how daily schedules are planned. No longer content with an inflexible "9 to 5", staff members desire an employer that is willing to work with them in the creating of shifts that take personal needs such as childcare, school or other job commitments into account.
With newer mobile compatible labor management and scheduling technologies, industry professionals finally have the means to fully address such staff demands without placing business service needs or guest satisfaction at risk. With just a few clicks on a mobile app, advanced labor management and time & attendance platforms can provide each employee with instant visibility into a property's upcoming scheduling needs. This significantly presents each employee with the opportunity to identify and select any open shifts that align with their individual preferences and work-life balance expectations. Using a mobile app, an employee can gain even greater control over their schedule by instantly and effortlessly accepting or declining open shift requests, as well as swap and drop shifts or make requests for time-off. Further, in an environment where many staff members have two jobs, invariably creating scheduling challenges as well as diminishing personal time off, mobile access to available shifts can give staff greater control over their "second" job. By empowering employees with these capabilities, hoteliers can transform scheduling into a collaborative process that not only eliminates the stress that can result from shift unpredictability, but that also leads to more engaged staff and a productive work environment.
Another area where today's employees demand greater control to better balance personal needs is over how and when they get paid. While the industry has attempted to attract much needed labor by increasing wages for present and newly posted job openings, the simple truth that hoteliers need to understand is that an increase in hourly pay only has a relative short term impact on satisfaction and does little to aid front line employees who often live paycheck-to-paycheck. Faced with bill due dates that don't consider when an employer pays their staff, many employees have little option but to use predatory lending services charging high interest rates just to make ends meet.
Here as well, labor management providers with mobile-enabled technology are providing hoteliers with a solution that adds no additional expense to operations but that finally breaks a vicious cycle leading indebted employees to look elsewhere for a resolution. Today and when backed by a mobile app compatible labor management system, hoteliers can provide staff with the means to be instantly paid after a shift has been worked. For employees receiving tips such as restaurant waiters or housekeeping staff, a few clicks of a mobile app is all it takes to make sure that they receive the correct level of pay the very moment when it is needed the most. Providing employees with the enhanced agency they demand over access to wages undoubtedly goes a long way in eliminating financial anxieties that cause skilled and otherwise content employees to re-evaluate current positions. With such stress-inducing factors finally lifted, employers can again find another vital opportunity to create a more positive work environment offering enhanced employee productivity while sidestepping high turnover rates and costly, time-consuming training processes.
Lessening the Burden on Managers
On the oversight side of operations, hotel managers have generally been slow to adopt mobile supported tools due to the uncertainty that comes with embracing any new technology. Having relied on the use of manual spreadsheets to manage employee schedules for years, many managers can often be resistant to change which from their perspective, simply translates into additional work that eats up precious time.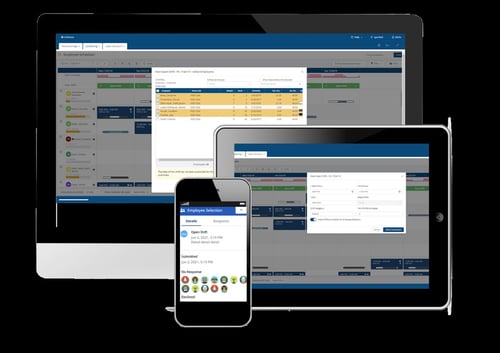 Yet once such managers can better understand the full benefits of what a mobile-enabled scheduling and labor management tool can offer and how it functions, the vast majority will no doubt see why so many industry peers are making the switch a top priority. Rather than resulting in more time spent managing daily responsibilities, such solutions instead represent a clear break from inefficient scheduling processes that consume manager attention spans and limit the time to focus on anything else, including the quality of guest experiences. When paired with an advanced labor management solution, managers can for example, simply open a mobile app to always stay instantly informed on any scheduling updates or issues requiring immediate attention. From the palm of their hands, they can effortlessly align daily shift needs based on intelligent algorithms and AI that can automatically forecast and/or update upcoming service demands by department, property or across a range of properties. Such tools can even accurately predict service demand by the hour, ensuring that managers never run the risk of either understaffing or overstaffing their operations. The latest technology also functions within a specific time frame to help management adjust needs in real time.
Yet another benefit of a mobile-based labor strategy is its potential to streamline and make communications much more responsive between managers and their employees. Staff members seeking to make any changes will find only frustration if their ability to submit requests is not matched by a manager's ability to issue a response in a timely manner. Using a mobile app that is linked to their labor management and time & attendance systems, managers can always be fully confident that their responsiveness to employee and business schedule needs is never limited by time and place. Using just their mobile device, managers can look forward to receiving alerts that include anything from an employee seeking additional hours to requests for time off or other absence needs. By creating a more streamlined and immediate means of communication between managers and employees, such mobile-based tools don't just result in staff needs or concerns being adequately addressed. They also represent a much needed pressure valve for managers by automating otherwise time-intensive tasks, allowing them to get back to focusing on more pressing matters that enhance both guest satisfaction and business revenue growth.
As if hotel managers had additional time to spare, industry professionals tasked with effective scheduling alignment now also have to take the growing prevalence of fair workweek laws into account. With such laws able to vary significantly depending on state, region or municipality, managers are seemingly on the losing side as they now face the risk of fines and other types of reprimands if found to be non-compliant in providing employees with a predictive schedule. However, the same mobile-enabled labor management technologies that are responsible for creating greater cohesion between employee and business needs can also be leveraged to eliminate the guesswork and time consumption of fair workweek compliance. When attempting to make a scheduling change with their mobile device, for example, managers can receive an alert instantly informing them that an intended shift update is set to violate predictive scheduling rules. By immediately understanding the potential impact of the scheduling change, managers now have the option to adjust their decisions based on the financial impact of such decisions, instead of waiting to find out some time in the future what the decision cost. Beyond predictive scheduling, managers can also utilize such labor rules to ensure that they remain in compliance with regulations affecting the use of underage staff, including shift length constraints or the sale of alcohol. With such capabilities always readily at hand, managers can again find that the benefits of mobile-based labor management far outweigh any potential learning curve challenges as they seek to minimize the time necessary to run an adaptable and successful business.
The Time to Embrace the Future of Workforce Management is Now
Regardless of a hotelier's level of comfort with new technology or processes, the reality is that in order to maintain success in today's industry, operations must adapt to accommodate evolving employee and guest expectations that with each passing day, call for swifter responsiveness in meeting personalized needs. Mobile-enabled solutions are already proving their tremendous value in addressing these expectations for guests, yet with hoteliers struggling to win the loyalty of their staff, the time has now come to expand the advantages of a mobile-first strategy to workforce management. This adoption will be an integral part of the effort by the hotel industry to finally overcome the high turnover rates that have plagued the industry for decades and that have stood in the way of achieving productivity and service quality goals that for far too long, have always remained just out of reach. ⬡