April 26, 2021 - By Mark Heymann, CEO, UniFocus - Published in Hotel Management. The use of innovative operational technology has emerged as a key component to hospitality's pandemic recovery. Operational technology aligns with the preferences of the post-COVID guest, which will be centered upon safety, simplification and smartphones. Take contactless check-ins, for example. Instead of checking in at the front desk, guests would much rather use a mobile app that simplifies the process and reduces the risk of getting sick from human-to-human interaction. This is the new reality.
Guests have grown accustomed to the convenience factor of digitalization during the pandemic, and they'll still expect the same in a post-pandemic world. So, while investing in guest-focused digital adoption will be essential over the next several years, it's also important to remember that operational technology is where incremental gains in revenue per available room are most likely to be found. From agile time and attendance to optimized labor management, demand sensing and budgeting, the performance benefits of enhancing your in-house tech stack will be just as vital to pandemic recovery.
Integrating Flexible Scheduling
The beginning of the pandemic revealed the need for hotels to take a completely different approach to the business. Employees suddenly had external circumstances prohibiting them from working when they were needed, such as watching their children during the week due to pandemic-related school closings or restricted access to public transportation. In turn, they were forced to call off work at the last minute, which led to significant labor challenges amid fluctuating guest rates.
The challenge of limited staffing availability remains a key issue today. The return rate of former hospitality employees who were laid off or furloughed during the pandemic is alarmingly low, with more people switching career paths and finding new homes in alternative industries. If employees continue electing not to return, hotels will have to find newer, innovative means of satisfying guest expectations, in an environment where there are heightened demands for safety and health.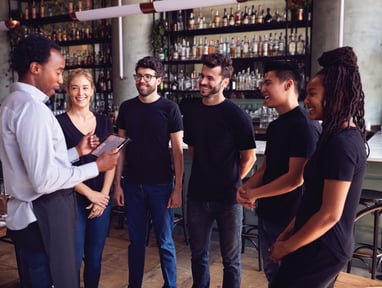 It's clear that hospitality's approach to labor before the pandemic no longer meets the needs of today's business. Advanced labor management systems that address the new reality of staff availability will be a vital resource as volumes return. Organizations will need to combat these challenges with more dynamic planning, scheduling and performance assessment models. With flexible scheduling practices, hotel managers can align staffing with volatile guest volumes, adjust shift durations to navigate limited employee availability, make mid-shift wage adjustments for cross-utilized employees, and enhance staffwide communication through mobile apps. Additionally, organizations will need to rethink their positional task requirements to meet new customer expectations. As rate increases lag behind volume growth, an assessment of real value-added tasks will need to be an integral part of overall staff requirements. By simplifying an otherwise complex set of processes with automation, managers can then focus on other key responsibilities—such as employee engagement and guest service while minimizing operational costs and maximizing profits.
Optimizing Your Labor Management
Hoteliers will need to rethink their approach to labor management in order to foster financial recovery. The guest experience is built upon a foundation of staffwide efficiency, employee engagement and effective training—all of which are dictated by an organization's labor management strategy. Every aspect of labor management needs to be automated, the first being advanced forecasting algorithms that can generate short-period demand projections. If a hotel restaurant expects 250 customers for a Friday night dinner shift, the forecast will reveal the exact hours of peak service-time so managers can flex their staffing and streamline workflows to ensure quality service is maintained through cross-utilization.
Considering the needs for increased staff availability, planning and scheduling, an optimized labor management approach can indicate when outside resources (contractors) are required for specific roles in order to meet customer expectations.
Cost-Effective Budgeting
In reality, post-pandemic recovery cannot be accomplished with an eye for old practices. While occupancy rates are rebounding, rates are still lagging, which puts pressure on operational savings to bring RevPAR back. The traditional, single-operating budget strategies of the past are no longer optimal for hotels to financially survive. Historically, budgeting primarily has been a two-dimensional process with one driver and one resultant expense. Future budgeting will need to incorporate at least a third dimension. Whether it's average daily rate, guest demographics, groups or other factors, the additional dimensions must be considered in daily budgeting and planning processes for hotels to navigate demand volatility. The right labor management system can allow hoteliers to do just that by developing "hybrid" budgeting strategies tailored to the specific needs of the enterprise.
Through artificial intelligence and automated data analysis, real-time reporting gives much-need visibility into several business variable data points—such as labor spend versus ADRs, percentages between hotel restaurant versus roomservice covers, average stay durations and service penetration by segment. All of these variables will play a role in optimizing cost-effective budgets. With a wide variety of actionable data-driven insights, the hotel can then align every component of their short-term, medium-term and long-term budgets. The hybrid approach would also incorporate the steady integration of flexible scheduling models based on market volatility, employee availability, shift durations and cross-utilization—enabling them to switch models on a weekly, monthly or quarterly basis based on the operating environment.
While new and innovative smart technologies will provide ample benefits for your guest-facing business, looking inward is just as important to the future of hospitality. Taking a holistic approach to digital adoption with operational technology is a viable path forward for hotels to achieve recovery, growth and sustained success in the years to come.