UniFocus COO Ken Heymann will be speaking on a panel at the upcoming Lodging Conference on How Smart Companies are Finding and Keeping Staff and wanted to share his thoughts. Those attending the conference can schedule time to meet with UniFocus, visit us at booth 120, and catch the panel on September 29 at 1:45 pm PST.
It's easy to place the full blame for hospitality's ongoing labor shortage issues on COVID-19 in the same way that the pandemic was responsible for grinding businesses to a halt last year. While it may be accurate to state that many workers have since found other forms of employment, one question that hoteliers should be asking themselves is why is it such a challenge to entice either former or new employees to give working in the hospitality industry another chance?
Fortunately, the answer to this question is often provided by employees themselves. According to feedback from across the industry, today's hospitality workers overwhelmingly expect better pay, benefits, and shift flexibility. Even prior to the pandemic, these factors have long been an issue that the industry struggles to resolve which leads to excessively high turnover rates compared to other industries.
Yet unlike trying to prevent the spread of COVID-19, hotel operators and managers have far greater control over how they can create a more attractive workplace environment that meets evolving worker expectations. The key, however, is to first accept that traditional labor structures have become outdated and can no longer serve the needs of today's hotel businesses, their staff or their guests.
Today's industry calls for a more flexible and smarter approach that can seamlessly keep pace with fluctuations in demand while always ensuring a healthy work/life balance for employees.
Take a Deep Dive into Your Operational Labor Needs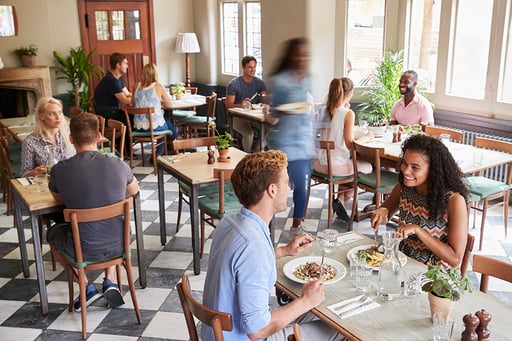 The first place that hoteliers should start when re-evaluating their labor planning processes is to determine business demand and occupancy while considering the size of their current workforce. This requires the ability to forecast upcoming business volume which will identify both peak business and slower demand periods. Using this information, hoteliers can begin to plan and structure their labor around the busier times when more resources are needed to maintain appropriate service quality levels and ensure that the organization generates as much revenue as possible from their guests. Once hotel operators can recognize the core service needs of their operations at different times, they can then begin to identify and implement staffing rules, such as the number or length of shifts required, to meet those needs.
Many hoteliers may overlook this crucial capability when they lack the time and tools needed to identify workforce resource priorities. This is where technology can offer a sizeable competitive edge. Advanced labor forecasting and management tools can now take the time-consuming complexities of identifying when and where labor is needed away from the growing list of responsibilities vying for managerial attention. Instead, managers can continue to stay focused on serving the wellbeing of their guests and business while making sure that employees are never left overwhelmed during known peak periods; ensuring a less stressful workplace environment able to minimize turnover rates while strengthening employee loyalty.
An effective planning and scheduling process begins with a smart forecast; this is particularly true in F&B operations where demand may vary day to day based on a variety of factors.
Introduce Flexibility into Your Workforce Planning Strategy
The rapid growth of the gig economy has changed perceptions about suitable working hours, regardless of industry. Further aggravated by the consequences of the pandemic, employers are finding that more of their staff members or potential job candidates are unable to work rigid or unpredictable schedules due to other commitments that may include taking care of children, study or working at another job.
As a result, both scheduling predictability and flexibility are among the leading benefits that prospective employees seek out when considering employment options. While hospitality professionals have traditionally felt constrained in the ability to provide such benefits by the hectic and fast-paced nature of the industry; for those wishing to maintain an appropriately sized workforce and high-quality service, there simply was no other alternative.
Embracing the Principles of Predictive Scheduling
Additionally, predictive scheduling statutes in various municipalities and CBAs are creating more pressure for employers to produce viable schedules two and three weeks in advance. While many will resist this trend, these regulations reflect what the labor market is demanding.
Those who embrace predictive scheduling, in principle rather than just in compliance, by using technology to produce better schedules farther in advance will be better positioned as desirable employers.
Hotel operators are not without the technological resources to be able to achieve these goals. As with facilitating the identification of business labor needs, newer solutions are now available that can automate shift management processes with the added advantage of empowering employees with greater control over the days and hours they work. Using a combination of AI-driven algorithms, such tools can alert both management and staff to upcoming shifts needing to be filled, with employees able to select the times that best align with other commitments, their income needs, and the organization's staffing needs.
This not only results in employees being able to better anticipate when they work, which can lead to a healthier work/life balance with less stress, but also takes one more responsibility off the shoulders of managers so they can better focus on other more immediate and pressing tasks.
Flexibility Through Cross-utilization
Another area where hotels, their staff, and guests can stand to benefit from flexibility comes from employee cross-utilization. Hoteliers must continue to go beyond the notion that an employee should only be trained and available to fulfil a singular role. For example, a housekeeping team member may be able to assist with the delivery of food when a hotel's restaurant enters its busiest period and when their own department needs have slowed down.
Many organizations have increased jobs of this nature over that past couple of decades, but technology which improves the quality of the plan and ease of cross utilization further enhances this approach.
If a hotel can discover ways to be more creative in cross utilizing their existing staff, businesses will soon find yet another solution to alleviating workplace stress while creating a more positive environment capable of attracting additional job candidates. Additionally, effective cross utilization makes it easier to give employees more hours, when desired, without managers having to call other department heads to send emails to check availability. Crucially for hotel business revenues, cross-utilization also offers greater flexibility in being able to adequately staff departments which may otherwise be required to operate at reduced capacity or close their doors entirely.
Empower Your Employees with Control Over their Own Wages
Aside from expecting greater control over both their personal and professional life, another benefit that hoteliers should give priority to is the fact that many throughout the hospitality industry feel constrained by the ability to access their own wages when needed. A hotel can promise hourly wages of $20 to entice potential employees, however, such an increase means little if a worker can't access their income to pay for utility bills or other vital expenses without incurring large fees from predatory lending services.
Fully resolving this issue are instant payment options that can integrate with a hotel's labor management systems and that never take away any earnings that rightfully belong to a property's staff. Using such platforms, employees can access up to 50% of their wages immediately after working a shift, with the rest of their income provided during regular payment periods. As an automated system requiring no managerial oversight, on-demand pay capabilities literally cost nothing in terms of affecting business performance or profitability. Yet what they do offer is the ability for hoteliers to gain a tremendous advantage in tailoring their operations to suit modern worker needs. From the perspective of a job candidate struggling to make ends meet, instant pay can and often will be the defining factor that drives their decision to side with one potential employer over another.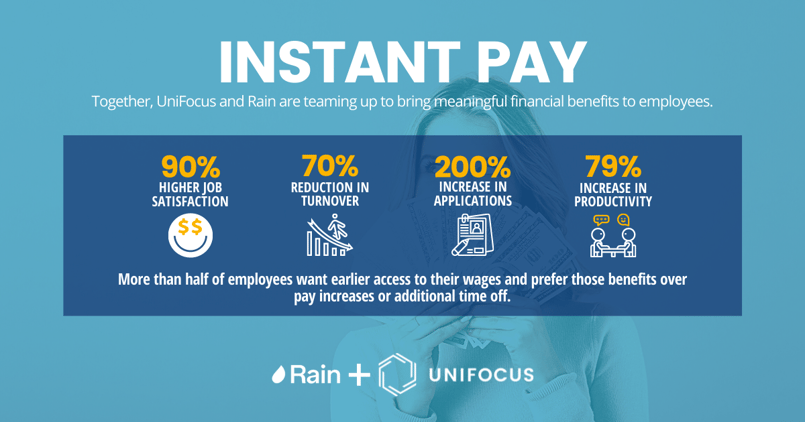 Keeping Pace with a Transforming Industry
For the vast majority of hotel businesses, labor management strategies built based on policies and best practices from the last century are simply not designed to address the realities that form today's market conditions and modern lifestyle needs. In a world where the lines between work and personal life are becoming increasingly blurred, employees are not seeking out the traditional nine-to-five that was once considered the cornerstone of a balanced work life.
Employees are clearly showing that flexible shifts and payment options are what counts when it comes to achieving harmony between work and their personal commitments. For hoteliers, the technology already exists and is readily available to seamlessly address this now widespread expectation.
The only thing that now stands in the way of a hotelier's path towards meeting their workforce goals and success is how they ultimately decide to respond to the changing times. ⬡
We'll see you at the Lodging Conference!
The 2021 Lodging Conference is September 27-29 in Phoenix, Arizona. UniFocus will be at booth 120, excited to share everything we have been working on, from feature and product development to exciting acquisition news. Ken Heymann will be presenting on the panel How Smart Companies are Finding and Keeping Staff on September 29th.
Book a time with us below to talk about the future of workforce management!