March 25, 2021 - By Benjamin Laker - Published in Forbes - As restaurants and hotels continue to navigate the COVID-19 pandemic, the challenge of preserving employee safety within a public health crisis remains a critical concern. For both sectors, the blueprint for providing a safe work environment isn't what it once was. Adhering to social distancing protocols isn't always easy during busy shifts or within small elevators, restaurant kitchens, and closed quarters behind the bar. These are the glaring realities service industry employees have faced for the last year.
Now, as the COVID-19 vaccine rollout continues to progress, a significant number of states are easing capacity restrictions, travel rates are increasing, and demand is steadily rising. U.S. airports reported 1.3 million air travelers on March 12, the highest since March 2020, and according to STR's latest data, hotel occupancy hit 49% as of March 6 – nearly a 20% uptick from January 2021. In reality, the formula for workplace safety amid 15-20% occupancy levels is not viable amid 50-60% occupancy levels. Higher staff volumes and workflows are required to maintain operational efficiency and provide quality service. So, the return of demand presents additional risks and responsibilities that add a new series of complexities to maintaining workplace safety. And even though we're inching closer toward the end of the COVID-19 environment, failing to provide a pandemic-safe work environment will still create many problems.
"It's a multi-faceted issue," said labor-management expert Mark Heymann. "Without proactive safety protocols in place and the keyword being proactive, employees will still have a greater risk of contracting COVID-19, forcing them to miss work and potentially causing a breakout within your enterprise. At the same time, guests will still have high safety expectations, so failing to provide a safe environment can also hurt sales and customer service."
Heymann is the co-founder and CEO of UniFocus, a Dallas-based workforce optimization company providing labor management software solutions that measurably enhance the management decision-making for Fortune 500 organizations in the hospitality, restaurant, and healthcare sectors. Its software leverages artificial intelligence and advanced data analytics to produce detailed, actionable insights that enhance forecasting, scheduling, and operational efficiency while promoting workplace safety. By utilizing it, businesses can predict demand volatility more accurately, aligning scheduling with customer needs while ensuring employee safety isn't at risk from under or overstaffing. This view is shared by teiss, a leading site for cyber security professionals that serves a community of C-Suite decision makers responsible for setting organisational goals, and senior IT and security professionals protect their organisations from digital risks.
"Advanced technology allows companies to staff effectively despite unprecedented market volatility," said Heymann. He suggests, if you miscalculate your forecast and wind up understaffed for a busy lunch shift, your employees are going to be working at a much faster pace and less inclined to remain socially distant, wear their masks, or follow visible cleanliness schedules.
"The same can be said for overstaffing. You're bringing more people into work than what the demand calls for. This also can create service deficiencies while increasing the chances of someone contracting the virus who didn't need to be there in the first place."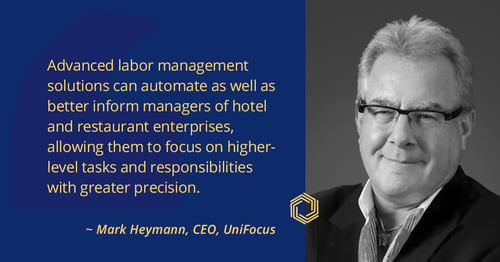 Dynamic workforce optimization solutions are just one of several emerging technologies helping restaurants and hotels foster safe work environments during the pandemic. Facial recognition and biometric identification solutions use infrared thermal sensing to record employee and customer temperatures upon arrival. Through mobile applications, management can provide employee programs that eliminate the need for human-to-human training while monitoring daily employee safety conditions with surveys to assess real-time understanding of the working environments. In hospitality, artificial intelligence robots that leverage UV scanners can be used to enhance guest room cleanings and mobile apps that allow for contact-free check-ins. Even as more and more of the country becomes vaccinated, those technologies will continue to be utilized to some degree. It is also quite possible that customer expectations have been increased by the COVID-19 environment, thereby demanding a continuation of hyper cleanliness coupled with the assurance of safer environments.
The integration of advanced technology and digital innovation into daily operations – such as RFID barcode scanners for contactless ordering-has become a proven asset for restaurants and hotels that combat workplace safety threats and keep employees healthy. However, as Heymann explains, it's important to remember that offering a safe work environment extends well beyond preventing COVID-19 cases.
"As important as it is to focus on the COVID-related issues, it's also essential that companies are giving their employees the means to work safely, especially when they are returning to work after three or four months," he said. "Employees aren't just expecting safety from a health standpoint. The entire staff will need to complete new training programs that align with new service expectations. They still wish to have safe, functional equipment and expect suitable logistical adjustments based on demand.
"Advanced labor management solutions can automate as well as better inform managers of hotel and restaurant enterprises, allowing them to focus on higher-level tasks and responsibilities with greater precision."
For example, imagine a restaurant that experienced a sharp rise in takeout orders when the lockdowns began. The high volumes of orders expanded the takeout prep and pick-up station to half of its dining area kitchen to accommodate high volumes of orders. But now, as takeout rates reduce with higher in-person dining volumes, they are forced to move the takeout area back to the kitchen – requiring new workflows that additional training that could be easily completed through a digital app. If handled ineffectively, this new process flow can create a poor work environment leading to potential accidents, less than expected customer service, and a dis-engaged team.
"Negligence lawsuits related to general safety concerns are still an issue, heightened during the pandemic," said Heymann. "If you brought 40 people back to work and didn't put them through proper training when they've been off the job for extended periods, liabilities can arise.
"So, while a COVID outbreak can still damage your operation, so can general negligence to aligning workplace safety with rising occupancy. Utilizing different forms of advanced technology will help address these issues alleviate those concerns."
Rita Trehan is the CEO of DARE Worldwide, a company specializing in helping companies navigate transformation and culture change; she argues that CEO's and boards are becoming acutely aware of how culture, leadership, and purpose intersect. In a post-Covid-19 world, as people return to onsite jobs, the line between home and work will remain intertwined – particularly around health and safety. An illness at home could risk coworkers' safety, and an illness at home could impact an employee's extended family. Add to this that many health measures have become highly politicized: When should we be wearing masks? What are the appropriate actions when someone is not abiding by the norms?
Leaders should expect tensions to rise and for these issues to bubble up in the workplace. The risk many organizations face lies in believing that these issues are temporary and or will eventually resolve by themselves. The opportunity, however, is to see these new challenges as a moment to rethink the workplace. From the use of technology to the cultural foundation that will bind the company and enable it to emerge better and more in-tune with societal needs, companies must reset their reason for existence. The answer lies in deliberate planning to understand the issues that have emerged and tackle these tough issues head-on. 2021 success lies in redefining the leadership, purpose, and culture of a company, doing so now DARE will strengthen companies for years to come.