January 2020 - Published in CIO Review 10 Most Promising HR Tech Solution Providers 2020 - In a world where technology is continuously evolving and quickly finding its way to optimize tasks and even automate many, there are still certain aspects that require human involvement. Machine-learning systems are only as good as the data they are trained upon; while they may have the ability to improve and simplify operations, these systems can't be used to their full capacity without human intervention to make sure they run smoothly. In other words, when it comes to optimizing new technologies and creating unique ways of accomplishing tasks, human involvement is critical. Hence, the key lies in striking the right balance between technology and human connection.
Having realized this a long time ago, Mark Heymann—a serial entrepreneur and industry expert—founded UniFocus, a workforce performance company, to enable managers to unleash the true power of the most valuable resource: people and make smarter decisions when it came to managing the workforce better. Now, more than ever, managers need the right technology to do their jobs, manage their teams, and address day-to-day challenges. UniFocus offers a cloud-based platform with integrated workforce management solutions that allow managers to effectively and efficiently analyze productivity while keeping employee engagement and customer satisfaction as part of the equation, in real-time. "We not only provide them with the industry expertise, training, and technology to track, evaluate, and leverage metrics to increase the overall performance but also develop true partnerships to optimize the workforce, bringing labor management, employee engagement, and customer satisfaction into focus," says Heymann, founding partner, chairman, and CEO of UniFocus. Through its extensive range of solutions and services, the firm provides significant competitive advantages to owners and operators of labor- intensive, service-oriented businesses such as hospitality, retail, healthcare, and restaurants, helping them quickly increase asset value by reducing labor costs and improving operational effectiveness, team engagement, and customer loyalty.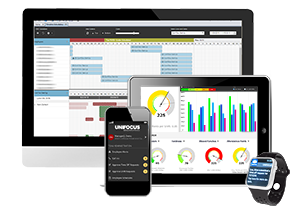 It's no secret that the services industry, in general, has been stricken by low occupancy since the beginning of the COVID-19 pandemic. Couple this with labor force issues, and labor management challenges that span everything from the planning and scheduling process to demand changes and staffing availability fluctuations. "The average employee's availability has been significantly reduced, which has in turn caused a lot of difficulties for managers. An enhanced focus on optimizing labor management to service levels, employee engagement, flexible scheduling, and task-oriented positions is the need of the hour," informs Heymann. UniFocus' robust labor management tools allow managers to forecast demand accurately, align staffing with work rules and labor standards, keep track of team members' availability, manage time-off requests, create schedules that work for everyone, and effectively assess performance.
For example, when it comes to the hospitality industry, business volumes fluctuate on a day-to-day, week-to-week, and month-to-month basis. Peak service times also change depending on the business volume and demand. UniFocus' automated scheduling solution allows for optimized control and flexibility, like adjusting shift times as well as durations, and weekly schedules on the fly to streamline availability changes. The system also simplifies the process of managing an ongoing hectic schedule and keeps everyone on the same page, so management can apply more focus on other tasks that impact day-to-day operations and maintain operational efficiency. In addition, the firm offers a time and attendance system to help managers track their staff and a reporting system that takes the concept of standard costing to a service industry level. The time and attendance tool provides real-time information on various aspects such as who is covering what shift, alerts when team members are late or need breaks, or when someone is working overtime. "Supervisors can gain access to centralized data on attendance and timecard issues—all in one place, in real time and hence, spend less time analyzing the data and more time attending to the needs of the customers," informs Heymann.
Another critical aspect of the services industry is employee engagement and customer satisfaction; they are two sides of the same coin, both crucial to a business' bottom line. Guest feedback and opinions play an important role in driving profitable business decisions. In today's age of social media, guest experience directly forms impressions that can make or break even the most established businesses. UniFocus offers a guest satisfaction measurement tool that delivers real-time feedback on guest offerings and enables businesses to identify areas of improvement and get the greatest ROI. Alongside, the firm also provides an employee engagement and survey solution that gives managers a comprehensive view of workers' performance and perceptions, prioritizing issues based on ROI and identifying problems before they become systemic. The survey measures staff perceptions of key factors such as communication with management, training opportunities, and how valued they feel. "The two solutions combined together create a holistic picture of an organization's workforce and its direct effect on customer satisfaction—a comprehensive view no other survey solutions offer," enthuses Heymann.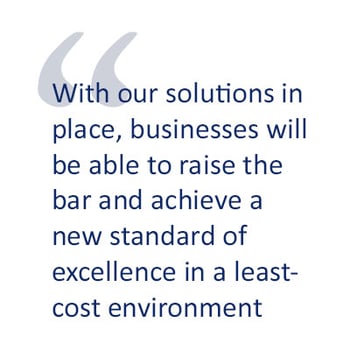 UniFocus' solutions and technology are cloud-based, easy- to-use, understand and maintain, and can be accessed from anywhere and at any time. Managers/supervisors can gain in- depth knowledge of how to work in a dynamic environment while using UniFocus' tools to make smarter decisions. Bearing testament to the expertise and capabilities UniFocus' offerings brings to the table is the firm's success story with a medium- sized resort group that has multiple sites around the U.S. Initially, UniFocus implemented its time and attendance system and mobile application at the resort's properties , making it easier for employees to change their schedules and availability, keep track of the number of hours they have worked, check the benefit time they have had and so on. "At the same time, via the application, we also gave the managers the ability to rapidly assign new employees to cover shifts in addition to monitoring overtime and other worker-related issues, helping the resort become more efficient," adds Heymann. On top of that, UniFocus also implemented its labor system that enabled the client to reduce their operating costs by a little over five and a half percent.
For over two decades now, bolstered by many such success stories, UniFocus has established a strong presence as the industry leader in workforce optimization. For the road ahead, the firm has several plans. On one side, UniFocus plans to have operations set up in Europe by the end of the Q2 next year. On the other, the team also intends to expand the platform's capabilities into other markets, such as healthcare, especially in areas of assisted living, acute care facilities, and own care and introduce a new tool for patient satisfaction. Alongside, aiming to enable restaurant owners to find alternate ways to take greater advantage of higher demand, the company is working on a yield system. Utilizing the new solution, managers will be able to adjust the staffing to maximize top line results as well as overall productivity. "We will also be developing and implementing a whole new gamification part of our technology to make it simpler and easier for people to not just use our software but to understand the results they get from using it, why and how it helps them run their businesses better and to add a little more fun to the processes. In short, with our solutions in place, businesses will be able to raise the bar and achieve a new standard of excellence in a least-cost environment," concludes Heymann.