July 28, 2018 - Published in Modern Healthcare – The drive to attain value-based care is reshaping hospital staffing at every level, from hiring to education to teamwork.

Clinicians are needed to help manage patients' care, and collect and interpret data, while in general they work to become more efficient.

And experts say value-based care and its emphasis on patient satisfaction have fueled skyrocketing demand for health professionals such as registered nurses and advanced practice nurses. "Most patient complaints involving hospital stays involve time in the hospital after surgery, such as being able to access a nurse when needed," said Mark Heymann, CEO of UniFocus, a workforce performance firm.

Consulting firm Mercer expects a shortage of 95,000 nursing assistants and 29,400 nurse practitioners by 2025, according to its workforce strategy and analytics practice.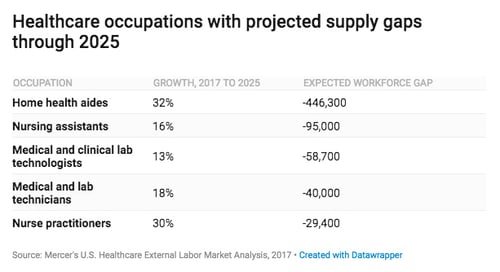 Already, experienced nurses are in high demand at hospitals seeking high patient-satisfaction rates, said Tommye Austin, senior vice president and chief nursing executive at University Health System in San Antonio.

In addition, Austin said nurse practitioners are needed to assist with patient follow-up, which can prevent readmissions that cut into hospital revenue. An advanced practice nurse may be able to see a discharged patient sooner than a physician can, she said. "That will ensure that the patient doesn't bounce back into the hospital."

Demand is also growing for nurse navigators, who follow up with discharged patients, Austin said. "They will call patients when they're at home or in another setting to make sure they're following up on their care and getting their medication, doing the exercises, or doing whatever other intervention they're supposed to be doing, in order to stay out of the hospital."

Yet the demands of value-based care are converging with shortages of healthcare professionals. "There has been a shortage of nurses for several years now," said Carol Kubeldis, vice president of talent acquisition for Providence St. Joseph Health, which operates 51 hospitals and more than 800 clinics in seven Western states. "There are other areas in the technical field, like lab technicians and digital imaging technicians, where we are seeing shortages as well."

In response, Providence St. Joseph and other health systems have forged a "grow your own" strategy to address workforce needs in the age of value-based care. Last year, the University of Providence in Great Falls, Mont., launched its School of Health Professions to meet growing demand for skilled healthcare workers. The university is a ministry of Providence St. Joseph Health and is sponsored by the Catholic Diocese of Great Falls-Billings.

The School of Health Professions offers a number of online degree programs at the bachelor's and master's degree levels, as well as post-baccalaureate certificates, including RN to BSN completion; Master of Healthcare Administration; and Master of Science in Infection Prevention and Epidemiology.

Medical assistants, another type of clinician in short supply, are increasingly going to be in greater demand, Kubeldis said. "When you think of the transition into ambulatory services, that shortage is becoming more dire because we're needing more and more of those individuals to support care within our communities."



Differences in attitude, definitions
Experts also cited the importance of teamwork and coordination in forging a value-based workforce. "Healthcare is a team sport," said Dr. Gerald Maccioli, chief quality officer of Envision Healthcare, a provider of physician, home health and ambulatory surgical services. "The technical skills of the clinician must be aligned with the reporting infrastructure at the hospital for value-based care to be successful."

But like any kind of fundamental change, building teamwork is not always easily implemented. "In the hospital setting, sometimes you have the same teams working together, other times you don't," Heymann of UniFocus said. "You may have a group that understands their component of value-based care, but another group suddenly joins the party and may not be as clear on that."

And looking more broadly within a system, the dynamics of how to achieve value-based care differ from one hospital to another, Heymann said. "What is value-based? Is it purely the response of the patient and the experience they had? Is it more outcome-based, how quickly did people get back on their feet and go back to work? As this keeps evolving, one of the key requirements will be a clear definition of what value-based care is and how it's going to be measured."

Experts say the answers to such questions, and the underpinning of value-based care as a concept, rely on valid data collection surrounding care and the impact of that care. "Value-based care is not just about capturing data to meet requirements," Maccioli said. "It's about ensuring we're capturing the right data and analyzing it in a way that drives continuous quality improvement, increased efficiencies and cost savings."

Healthcare providers are under increasing pressure to perform duties beyond caregiving. Maccioli said they "are being asked to capture and analyze vast amounts of information and comply with new regulations, all the while continuing to maintain a standard of excellence for quality care and patient safety."


Technology's role
Susan Salka, CEO of AMN Healthcare, a staffing and workforce company, said more hospitals are tapping into complex, technology-driven tools to attain value-based care. Such tools include outsourced recruitment processes to help attract permanent staff and predictive analytics to improve scheduling.

"The further out you can schedule, the better you can be prepared to make sure you've got ample staff to fill those slots," Salka said. "And if I'm a nurse with three kids at home, I want to know what my schedule is going to be more than two or three weeks out. In this environment, where the nursing shortage is getting increasingly severe, it's even more important that you retain the nurses you have."

Hospitals also are turning to managed services programs to balance their need for core permanent staff vs. contingent temporary staff, Salka said. "It helps reduce costs by ensuring that they get access to temporary staff when and where they need them, at the right cost."

The need for these data-driven solutions has led to "many technology companies popping up all over the place" to assist hospitals, Salka said.

Matt Keahey, vice president of operations for the Medxcel healthcare facilities services company, said the relentless changes in healthcare can be dizzying when trying to keep staff up to speed.

"The pace at which healthcare is changing has not left a lot of time to think through the unintended consequences of some of the short-term decisions that are being made," Keahey said.

For example, he said, the "systematic outsourcing" of departments reshapes the tone and feeling inside a hospital.

Outsourcing reduces the traditional career pathways, and people become independent operators. They're "looking for the next thing that's best for them, as opposed to how they grow and develop in an organization, and grow and develop others as well," Keahey said, which is in "direct contrast to what is needed in hospital communities as you compete for patient experience. You end up with a compounding problem as it relates to staff and staffing, which can lead to turmoil that impedes efforts to improve the patient experience and provide value-based care."


Millennials to the rescue
Millennials, currently the largest generation in the workforce and carrying a reputation for self-involvement, may be a good thing for the workforce. "Millennials want a better work-life balance," Heymann said. "They want more time off and they're prepared to spend longer hours at work to get more days off," which could pay off for everyone in the long run.

"People who decide when they want to work have a more positive attitude when they go into work," he said. "That's going to be a critical component of any value-based delivery."

Julius A. Karash is a freelance writer based in Kansas City, Mo.