Leading workforce management system provider UniFocus announces advanced product updates and enhancements to unparalleled system
DALLAS, TX— UniFocus, the leading provider of workforce management systems, today announced new features and updates to its state of the art workforce management software. As the labor-management authority in the hospitality and restaurant industries, UniFocus is continually enhancing the value of its products through innovative features and product releases that meet current needs, address partner pain points and generally make everyone's work lives easier.
Version 10 is a complete enhancement of the user experience, with additional new features, especially prescient with the challenges operators and business owners currently face. In addition to user-facing updates and releases, all products have seen technical updates allowing UniFocus to continue to provide a stable environment. The user is front-and-center in the interface updates, with each screen customizable to the user, their preferences automatically saving to save time and get operators to the information and tools they need as quickly as possible. Release highlights include:
Spend time working the plan, not making the plan. Managers' time is valuable and pulled in every direction; with the UniFocus user interface updates, it's easier and faster for operators to make the plan so they can spend their time working the plan. Drag and drop features are easier than ever and applied to more screens. New panels allow the user to stay in their active window, so they can stay focused and get it done.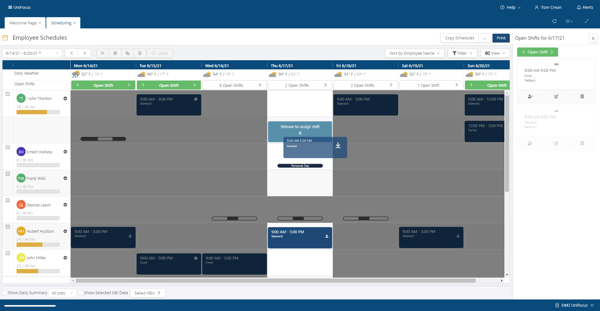 Let us alert you when you are deviating from the plan. Today's complex environment means that managers are making adjustments weekly, daily, shiftly, and hourly. New custom notifications and alerts go beyond just accessing the data they need, but bring attention to deviations from the plan, based on individual business needs and brand standards.
See what you need and not what you don't. As operations only get more complicated, UniFocus is helping filter out the noise. The latest release streamlines the user's view down to the essentials, with the option to add more data and customize it to exactly what they need in order to run their business. User preferences are now saved as default views and the most used features stay at the top of the feed to get users in and out faster.
We manage the rule so that you can manage the exception. UniFocus's continuous product development means that releases include new features that help operators identify and manage exceptions, so they focus their time where it's needed most. The Version 10 release adds a new pay groups feature, making it easier for partners to process payroll in complex environments.
Employee engagement and loyalty has never felt more crucial. Operators across the country are voicing an unprecedented struggle to hire and retain employees, industry-wide. And UniFocus's employee engagement survey tools are easier to use than ever, whether business owners want to get a quick pulse on how people are feeling or need to do a deeper dive, our tools get you the insights you need to succeed at employee satisfaction.