Trusted leader in workforce technology provider to showcase how hoteliers can increase employee tips and provide instant access to wages in an increasingly cashless society through integrated digital tipping feature.
DALLAS, TX— June 27, 2022—UniFocus, the leading provider of Workforce Management Systems, has today announced the launch of Gratitude, an innovative employee tipping platform that provides hotel guests with the ability to tip staff throughout a property without requiring the use of an app or physical cash. Set to be showcased at this year's HITEC in Orlando, Gratitude together with UniFocus' Instant Pay and Tip Pooling capabilities, will importantly provide today's hoteliers with the means to maintain competitive wages to attract and retain a loyal and productive workforce.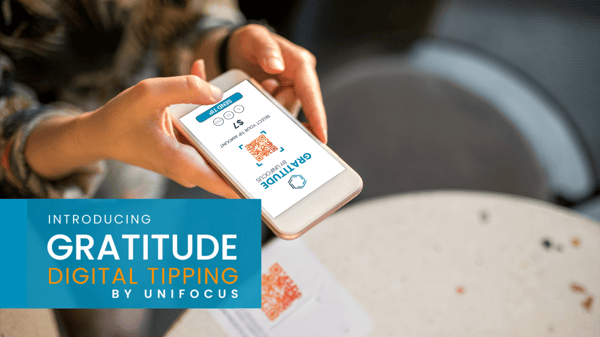 With modern travelers often carrying just credit or debit cards, the lack of at-hand cash has resulted in a substantial decrease in the number and amount of tips left to a hotel's staff. This reduction in overall wages has only been partially addressed by minor hourly rate increases and can play a significant factor in staff decisions to seek out other employment options. With Gratitude by UniFocus, hoteliers can finally reverse this trend by providing guests with the option to leave a tip using either credit/debit cards, Apple Pay or Google Pay. Via a secure mobile-compatible portal that can be tailored to a hotel's branding, guests can effortlessly submit the tip amount they wish to provide and can leave feedback on the quality of service received.
Native to the UniFocus workforce management system, Gratitude ensures that tips are shared with the appropriate staff. Hoteliers to seamlessly create 'tip jars' by department, such as for housekeeping, valet services, the front desk and concierge. Gratitude further facilitates guest use and increases the likelihood of leaving behind a tip by allowing guests to scan a QR code to be instantly directed to the correct tip jar. Hoteliers can place such QR codes within guestrooms, lobby areas, vehicles and more to provide guests with a more convenient tipping experience and to promote awareness of the service.
"Hoteliers can't financially offset the decrease in tips beyond areas that are tied to a POS system such as a hotel's restaurant. Until now there hasn't been an alternative for employees such as housekeepers or front desk staff to receive digital tips," said Moneesh Arora, CEO of UniFocus. "Our Gratitude platform is the first fully integrated solution designed to fully resolve this challenge for the hospitality industry, and will prove to be a tremendous asset for hoteliers actively working to attract and retain talent. Together with our tip pooling and instant pay services, UniFocus can help boost the industry's reputation as a competitive and attractive source of employment."
Serving as a comprehensive provider of advanced workforce management technology, attendees visiting the UniFocus x Knowcross HITEC booth #2417 can also learn how to further streamline staff tipping processes using enhanced tip pooling automation. Integrated with the company's Time & Attendance platform or function as a standalone feature, tip pooling by UniFocus sidesteps the time-consuming need for managers to manually track and disperse tips. When integrated with the right systems, Gratitude can automatically calculate accurate tip disbursements based on which shifts and how many hours each employee has worked. Tipping technology is amplified with UniFocus' Instant Pay abilities which provides workers with up to 50 percent of their earnings the moment a shift has been completed, hoteliers can finally fully address modern employee demands for flexible and instantly accessible wages without incurring additional costs.