#6 in the "Restaurants Post-COVID-19" series – Our objective with this series was to bring insights from our team's work with thousands of restaurants and F&B operations, providing helpful prompts as you work through all of the details of re-opening and operating in the new "normal" with Covid-19 still prevalent.
What follows is a brief recap of the most important points and issues that will need to be dealt with – from pre-opening planning to operational adjustments for both front and back-of-house staffing, all of which are designed to bring your operation to profitability more quickly.
To start, there are many things to consider pertaining to guest and staff satisfaction while you transition back to profitability.
How will you handle social distancing for guests and staff?
What are your policies regarding PPE and how will you implement them?
What products and processes will you use to sanitize and make cleanliness visible?
What steps will you take to minimize physical contact with shared items by guests and staff?
What steps will you take to maximize table turns while your capacity is restricted?
Let's now turn to some of the key points that were raised in each phase of our discussions.
Pre-Opening Considerations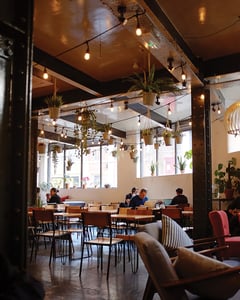 Re-opening your restaurant will be a lot like the process you went through when you first opened. While your building and equipment are already in place, there are a lot of unique issues that will change the way you operate in this post-pandemic environment. The key actions that need to be taken are:
Communicate frequently and clearly with staff as they come back to work.
Provide staff training in safety measures that need to be observed upon arrival and during operation.
Determine how customers will access your menu: paper, digital (QR Code).
Take steps to enable social distancing: remove tables or mark them as out of service; make necessary changes to restrooms.
Establish procedures for handling silverware and glassware to demonstrate safe practices to guests.
Establish procedures for safe handling of food from the kitchen to the table to make it visible to the guest that their safety is paramount.
Assess which meal periods you should be open for in the early stages of reopening.
Determine what cross-training is needed to optimize labor costs, then conduct the actual training as staff returns.
Also, as part of pre-opening planning, your menu will need to be reviewed and effective menu planning will be key when the operation re-opens.
Menu Engineering and Planning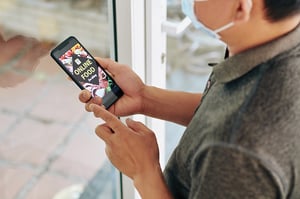 Your menu plays a big role, both in managing costs and supporting social distancing in the kitchen during the operation of your restaurant. Sustainability in this environment means your dollars will matter more than ever: how you spend them, what you spend them on, and the way in which they are spent.
Review your menu abstract to help determine how many menu items you actually need to provide, ensuring enough variety for your brand and customer base.
Include considerations of contribution margin for each selected item in your menu review.
Assess the number of ingredients needed across the selected items.
Consider a Prix Fixe menu to help control costs and production time.
Define a daily production schedule based on your revised menu to assist in social distancing during prep time as well assisting in production time during peak periods. (e.g., sous vide).
Review all new menu and food prep plans to determine if you need an HACCP Plan.
Taking Full Advantage of Available Demand with Restricted Restaurant Capacity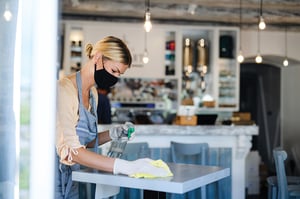 We've reached the point where the operation is ready to open the doors. Now the challenge is to move from planning to day-to-day business management.
Restaurants will be opening with restricted capacity to enable social distancing, which means you will be operating a "smaller" restaurant. Fewer seats can translate to lower revenues, specifically at peak operating times. Operations that successfully address this issue will achieve profitability and sustainability at a faster pace than the market in general.
Focus on how to reduce peaks while still taking advantage of total demand. This can be done with early bird specials, off-peak discounts, continued promotion of takeout business (get creative!).
Drive total revenue by determining ways to reduce guest times at the table, or simply increase table turns while delivering a positive dining perception. Experience tells us that if your lunch meal period was historically 45 minutes, you can shave 5 to 8 minutes off without a backlash. For dinner, reducing table time by about 15% is feasible.
Align staffing parameters with customer demand and table turn goals.
Ensure the sanitation plan that was developed during pre-opening is in place and clearly visible to the customers.
 Managing Back of the House Re-Opening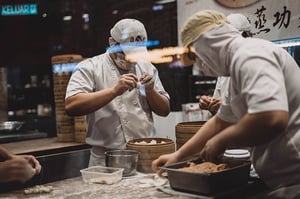 The kitchen presents unique challenges as restaurants contend with post-COVID-19 requirements. Social distancing and communicating from one shift to the next without requiring several people to handle the same paper will require adjustments to long-held work practices. Some of the key issues and actions are:
Configure schedules to have the least possible number of people in the kitchen at the same time, yet get the work done to serve guests efficiently.
Design staffing timelines based on a logistics assessment, determining the minimum number of staff needed to ensure service is not slowed down, while possibly getting some production in other areas.
Determine how to feed staff affordably while accommodating social distancing.
Cross-train team members to give you greater flexibility in scheduling and getting work done.
As restaurants re-enter the business world, operating considerations regarding Covid-19 concerns and restrictions combined with external issues will play a key role in determining the path to profitability. Restaurants will be opening before the full availability of some support services, such as childcare, which will create the need to accommodate staff availability issues. Ingenuity in scheduling to enable valuable team members to return to work is going to be a priority. The road to success will have many pitfalls, but a systematic approach to planning, coupled with timely operating tools and data will help as we all get used to this "new" normal.
While there is not a one-size-fits-all approach, we hope you have found this series of articles helpful in shining a light on potential issues and providing some ideas for addressing these challenges.
Read the other articles in the series: