How Is Unifocus Revolutionizing Product Development Through Client Feedback?
Innovation starts with listening to our clients and understanding their needs. At Unifocus, we firmly believe in this philosophy, and to accelerate our innovation roadmap, we've launched the Unifocus Ideas Portal. This platform serves as a dynamic space where our clients can get a look at the cool new features we are working on and upvote the projects you are most excited about!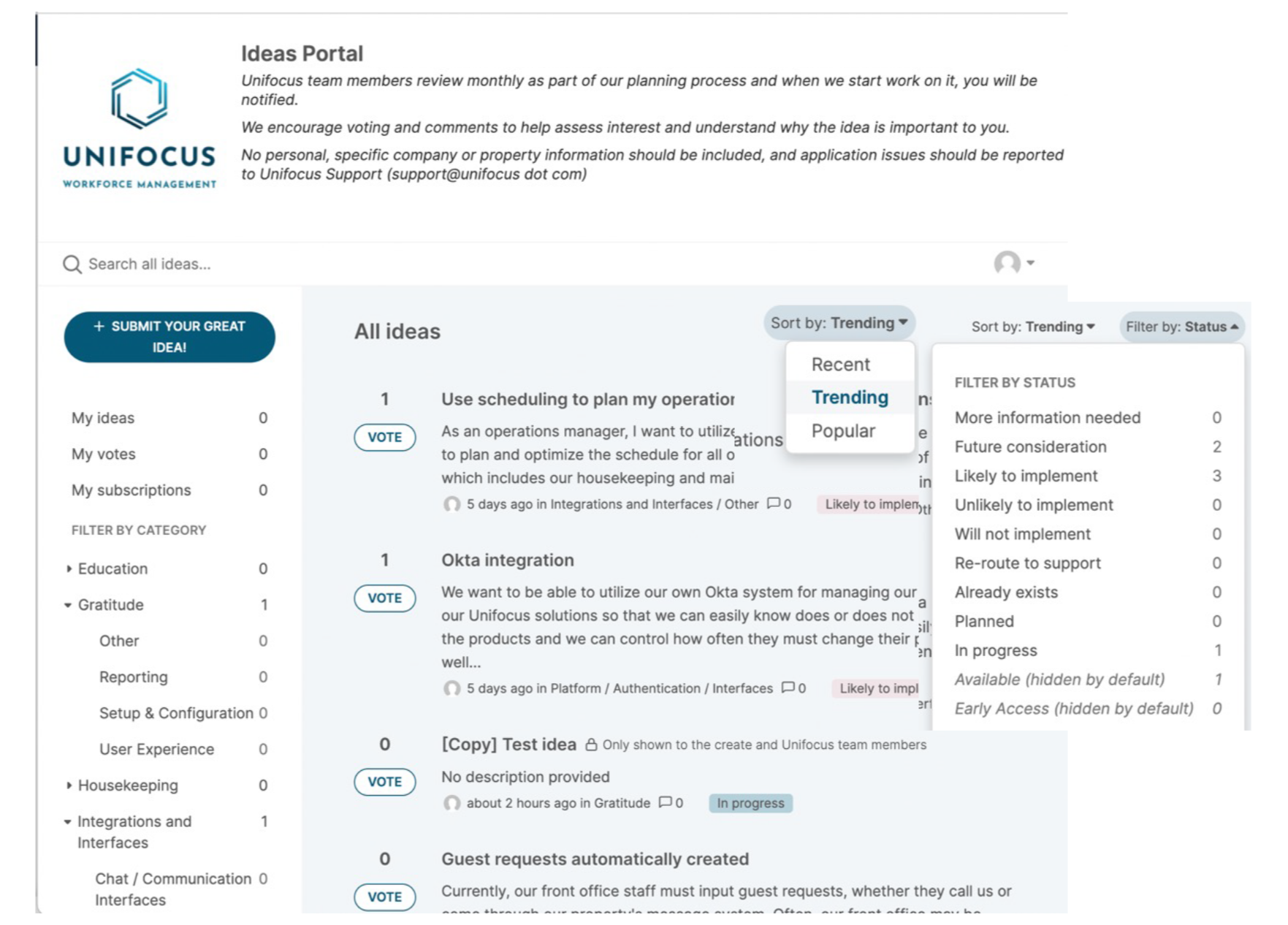 To register and participate, simply visit https://ideas.webpt.com/ideas
It's a space where you can see what ideas we are working on, vote for the ones you believe in, and leave comments to express your thoughts.
Your privacy is a priority, and you can choose whether or not to remain anonymous.
Once registered, you can browse through the portal to discover our latest technology before it is ever released.
Here's what happens next:
Idea Visibility:

see what we are working on before the public does.

Regular Reviews:

The Product team conducts regular reviews of ideas to understand problems and assess their value.

Alignment with Existing Ideas:

If an idea aligns with another one, they will be linked together, combining votes for a stronger case.

Correspondence to Existing Functionality

: If an idea relates to existing functionality, you can request information and guidance on how to effectively utilize it.

Matching Enhancements:

If an idea aligns with an enhancement that is already in progress or planned, you can request to be kept informed of its progress and any updates.

Consideration of Popular Ideas:

As the roadmap is revisited, ideas that receive significant interest through voting are given consideration.
Once we post an idea, it will become available for voting and commenting by the entire community. The collective wisdom of our clients solves the most important challenges and helps us understand where to prioritize our time and effort.
We value your input and are dedicated to providing a platform for your voice to be heard. Together, let's drive innovation, improve our solutions, and create an even better experience for everyone.
Visit the Unifocus Idea Portal today and let your voice be heard! See what we are working on, vote for your favorites, and make an impact on the future of our products and services.