Every hotelier understands the overwhelming importance of guest satisfaction. However, understanding its importance and how to maximize it are two very different things. What separates successful leaders in every hotel category from the oceans of competitors is a team that can consistently satisfy a guest's expectations.
One of the key components for achieving that goal is an optimized workforce that gives maximum flexibility to meet those guest expectations. Basic product quality is extremely important, but with the number of brands and property types transforming the market, a hotel's staff can be the differentiating factor.
Consider the following data from a recent study on hotel guest priorities. When booking, 49% of guests prioritize a friendly hotel staff and look for it in online ratings and reviews. Of guests with complaints, 62% say that an unfriendly staff is the most frustrating part of their stay. Two of the top three issues identified by guests with frustrations were workforce-related:
38% said the front desk took too long to complete requests
31% said they had delays in service from hotel staff
Staff interactions and efficiency have a significant bearing on guests' intent to not only return, but also recommend. In today's dynamic environment with continually changing and evolving guest expectations, hotel operators are best-served looking at workforce optimization and guest satisfaction as a cause and effect equation. Failing to recognize the critical need to optimize a workforce and operations to meet those shifting expectations puts a hotel at a distinct disadvantage that is increasingly hard to overcome.
The cost of acquiring a new hotel customer is anywhere between 15 to 25 times greater than keeping an existing one, making intent to return and recommend essential for enduring success. Adopting some well-chosen insights and best practices on workforce optimization can provide a competitive edge by helping create loyal relationships with guests who will serve as your ambassadors.

The Link Between Your Workforce and Guest Satisfaction
Ask most managers to explain workforce optimization, no matter the industry, and they're likely to only focus on cost savings and ROI. While keeping costs low is obviously a significant part of realizing profitability, workforce optimization in the rapidly changing hotel industry is best described from a different angle than what traditional definitions might dictate – value creation.
In specific terms, that value is defined by a guest's perception of your service and the overall guest experience, thereby linking it to many factors like revenue growth, market share, and other critical metrics. Of course, those perceptions are dependent upon the hotel itself, where a luxury property will have created a far different set of guest expectations than an economy chain, highlighting the need for a hotel to understand what its specific audience wants
Likewise, the various guest segments will have different demands as well. As an example, business travelers, families on vacation, and honeymooners each expect a distinct set of services and amenities. Still, whether luxury or economy, business guest or vacationer, guest expectations as a concept are universal across the entire industry.
For instance, a request for an extra pillow doesn't depend on the class of the property. When a guest makes such a request, they expect the hotel staff to fulfill it in a timely manner. The hotel's ability to quickly satisfy that request creates value by improving guest satisfaction that directly correlates with a better overall experience and the intent to return. Granted, that's a simplistic example of the dynamic, but certainly one that applies to the entire industry and reveals an integral source of ROI stemming from an optimized workforce. The inability to fulfill that basic request exposes a hotel to an increasingly fickle customer base, one where a single poor experience could prompt as many as 67% of guests to consider using a different hotel next time.

Although the quick delivery of an extra pillow doesn't require a heavily optimized workforce, creating a memorable guest experience from the point of booking all the way through a guest's departure from your property absolutely does. It requires cohesiveness and flexibility from your staff, traits that allow them to bend according to changes in demand and evolving guest expectations. When you have workforce optimization, you meet the customer's need within their idea of acceptable norms, including time, cost, and others that, when adequately met, create value for your hotel and in the minds of your guests.
Factors to Take Into Account When Optimizing Your Workforce
With an optimized workforce, you understand your guests' dynamic demand and equip your staff to meet that demand, allocating your resources to meet or surpass expectations and improve guest satisfaction. Naturally, certain concepts are essential for workforce optimization, including:
Efficient scheduling to align your team with fluctuating demand
Forecasting to account for the variables your operations may encounter
Analyzing KPIs to gauge your performance
However, as previously stated, the elements that define an optimized labor force in today's hotel industry don't necessarily align with traditional definitions that almost entirely focused on costs.
To that point, concentrating too much on cost reductions could ultimately do more harm than good to your long-term profitability if it means sacrificing value for short-term gains. To go back to our simple example, cutting staff to save labor costs might help today's margins, but if that guest waits an unsatisfactory amount of time for that extra pillow, the intent to return and recommend plummet. Further, the typical consumer will tell 6 people about a positive experience, but between 9 and 15 people about a negative one – that can quickly become an extremely expensive pillow for your hotel.

Instead of simply cutting costs, which may have a lasting negative impact, take a close look at the cost parameters within the different ways to optimize your workforce. Gauge affordability versus effect and look for the least cost with the most gains in guest satisfaction. Once you've invested in systems that allow you to most effectively utilize your workforce within your budget constraints, couple that optimization with an employee engagement program that gives a voice to your workforce and empowers it.
That powerful combination of technology and an engaged workforce creates a potent solution set that improves your guest satisfaction and drives the intent to return and recommend. Without the inclusion of employee engagement in your performance equation, your KPIs will not tell the entire story. This shortcoming may well result in misdirected tactics and strategies that never had a chance to succeed in the first place.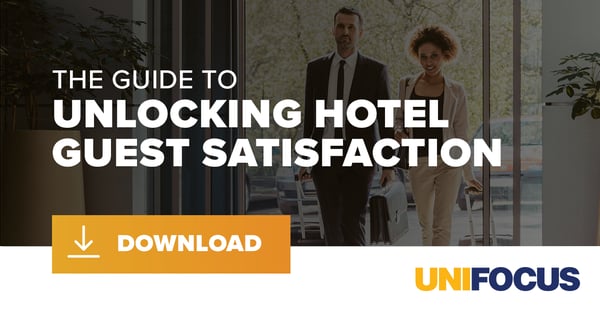 For example, UniFocus provides solutions that help hotel owners and operators optimize their workforce and, thus, continually improve guest satisfaction. Our suite of LMS solutions gives hoteliers the technology needed to ensure their forecasting and planning accuracy, effectively budget around shifting demand, monitor performance, and enhance communication. Further, our GUESTScope and STAFFScope survey platforms give hotel operators indispensable insights into the thoughts and perspectives of both their guests and employees. With UniFocus' comprehensive set of solutions, hotels have the tools needed to optimize their workforce, improve guest satisfaction, and realize a lasting competitive advantage.
Know someone trying to solve their workforce management problems? Share this post them! Or, if you have questions comments, leave them below.