A guest's intent to return to a hotel or recommend it to someone else is a key goal that every hotelier strives to achieve. It represents a satisfying guest experience and results from an engaged and optimized workforce, streamlined operations, and a quality product that is designed to meet the understanding of guest expectations.
While hotels use various metrics to gauge guest satisfaction, the intent to return or recommend is the gold standard and separates the wheat from the chaff in hospitality. Therefore, understanding the importance behind such intent and the impact it has on everything from branding to revenue is essential in carving out and expanding market share in a constantly changing industry.
A Closer Look at Intent
First and foremost, although related, there is a definite difference between the intent to return to a hotel and the intent to recommend it to others. Intent to return is rooted in familiarity and consistency, where a guest trusts that a hotel will provide a similarly satisfying guest experience in future stays and feels comfortable booking the hotel property later on. That is, of course, unless the hotel breaks that trust and fails to adequately foster that intent to return.
From an emotional perspective, the intent to recommend is the more personal of the two, essentially putting your good name on the line by trusting that a hotel will satisfy another person – perhaps a friend, family member, or colleague – just as well or better than it treated you. A recommendation that fails to live up to expectations makes a person susceptible to everything from anger and disappointment to frustration and annoyance, depending on the circumstances. Simply put, the intent to return is based on comfort, while the intent to recommend requires a more intense emotional response.

Likewise, the nature of those circumstances – be it a family vacation, overnight business trip, or just a weekend getaway – changes a guest's expectations. The guest services and amenities that might suit a romantic getaway in New York City very well won't necessarily suffice for a two-day corporate engagement in Dallas. Everything is relative, including the many factors that determine a guest's satisfaction and, thus, intent to return or recommend.


The Top of the Metric Food Chain
So why exactly is the intent to return or recommend such a critical metric in gauging guest satisfaction? When a guest wants to return to a hotel property or suggests it to another, it means that hotelier understands a guest's priorities, has satisfactorily met or exceeded them during a visit, and adapts to those priorities as they change over time.
This dynamic drives revenue over the long-term, expanding revenue streams as those guests recommend your hotel to others who, in turn, establish their own relationship with your hotel. According to research from Cornell University, highly satisfied guests spend nearly twice as much in ancillary expenses during a stay than dissatisfied ones, also expecting to increase that spending by over 20% on their next visit.
Highly satisfied guests spend nearly 2x as much in ancillary expenses than dissatisfied ones
Likewise, that same research found that 57% of highly satisfied guests say they will definitely return to the hotel, and a staggering 89% would recommend it to others. Dissatisfied guests only had a 2% intent to either return or recommend. That strong linkage between guest satisfaction and revenue is precisely how a hotel gains market share and beats the competition, maintaining and growing both their guest base and revenues over time.

While a metric like RevPAR might be extremely common across the industry, it can also skew results and blur an accurate view of a hotel's performance. RevPar's biggest shortcoming is its inability to account for differences in room supply between properties within any given market – mathematically depicted as the ratio between room revenue and rooms available, or Room Revenue/Rooms Available. Smaller hotels will always have an advantage from a RevPAR perspective due to their greater ability to essentially control pricing. Alternatively, larger properties might suffer in RevPAR but still have greater total revenue.
Intent to return or recommend scores don't suffer from the same shortcomings, conveying a clearer snapshot of a hotel's success in fulfilling guest expectations. When strategized around, the insights from intent to return or recommend scores help ensure the property's long-term success. This is, of course, is based on similar property comparisons on like-market segments and positioning.


Far-Reaching Impact
Hotel operators should take comfort knowing that a little improvement goes a long way when it comes to guest satisfaction and the intent to return or recommend. According to JD Power's 2017 North American Hotel Guest Satisfaction Index Study, improving a base-ten score from eight to nine increases the intent to recommend by 40% and the intent to return by nearly 50%.
These types of statistics are attributable to the nature of the intent to return or recommend themselves. Yes, as discussed, the intent to recommend hinges on a more intense emotional response from a guest's experience with your hotel. However, the sense of comfort and familiarity that drives the intent to return is also critical to lasting success. Whether intense and visceral or comforting and easing, emotion is a powerful component of the connection a hotel forms with a guest, heavily influencing the level of guest engagement. Moreover, according to research from Gallup, engaged guests create 46% greater revenue for a hotel than their disengaged counterparts.


Engaged guests create 46% greater revenue for a hotel
Insights Gained From the Intent to Return or Recommend Score
As noted, measuring and analyzing a guest's intent to return or recommend is critical to gaining a better understanding of guest satisfaction, the overall guest experience, and driving revenue well into the future. However, just like any metric, those scores don't exist in a vacuum, so a hotel should use them to look for trends in satisfaction and intent and, just as importantly, continually examine what drives those scores and trends.

While the scores themselves might highlight particular areas of need, only a deeper dive into the underlying drivers will inform strategy and equip an operator with the insights needed to make any appropriate changes or adjustments. There are a series of factors that influence the guests' perceptions or, more simply put, the sense of value delivered. In addition to the actual service experience, other factors like the type of room, rate, view, position in the building, and even the length of stay all have an effect. A hotelier must account for all of these factors to fully understand the intent to recommend and return.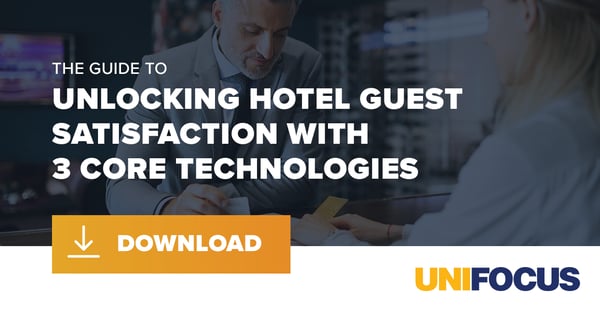 Know someone trying to solve their workforce management problems? Share this post them! Or, if you have questions comments, leave them below.