November 8, 2020 - Written by Mark Heymann and Published in Hotel Executive - Before COVID-19, the industry was well on the path of embracing labor management systems as one of the tools needed to improve operational performance. The systems ranged from very rudimentary approaches to more sophisticated, AI based technologies.
Clearly there was a perception that higher volumes of business was more suited and applicable to these LMS approaches. Additionally, labor force stability made the relationship of scheduled to actual hours utilized more consistent, therefore putting a greater emphasis on the planning process to achieve optimization of costs.
However, times are different now amidst the pandemic. With occupancy rates at record lows, coupled with labor force issues, labor management challenges now span everything from the planning and scheduling process to demand changes and staffing availability fluctuations.
During periods of lower occupancies, prioritizing labor management often falls by the wayside. A common misconception among many hoteliers is that investing in labor management when business is slow won't lead to solid ROIs. But in reality, sophisticated labor management systems leverage advanced technology and artificial intelligence to produce results far greater than any manual process can. In our current reality, a labor management system can serve as an effective tool for managing the low occupancy levels, demand volatility, changing labor needs, new workforce guidelines and financial constraints that all persist within the COVID-19 environment.
The pandemic doesn't appear to be going away anytime soon, as COVID-19 cases are surging again across the country and appear that they will continue rising through the winter months. A proactive approach to labor management will be essential for navigating the unpredictable future. After developing a firm understanding of the root causes to the challenges that exist in our current reality, the benefits behind utilizing an advanced labor management system to combat market volatility become quite clear.
Weathering Travel Reductions
Let's take a look at the big picture. It's no secret that the hospitality industry has been stricken by low occupancy since the beginning of the pandemic, and while the rates have increased from the 10-15% levels in March and April, they are still at unprecedented lows. According to Smith Travel Research, which provides premium data benchmarking, analytics and marketplace insights across hospitality, the industry reported its lowest third-quarter North American levels on record -- 48% occupancy (down 32% from 2019), $101.25 Average Daily Rates (down 24% from 2019) and $48.58 Revenue Per Room Available (down 48% from 2019).
The low occupancy, in large part, is due to a steep reduction in global business and leisure travel. A recent CNN report highlighted the following airline traffic declines among the world's top 10 busiest airports in Atlanta, Beijing, Los Angeles, Dubai, Tokyo, Chicago, London, Shanghai, Paris, Dallas/Ft. Worth.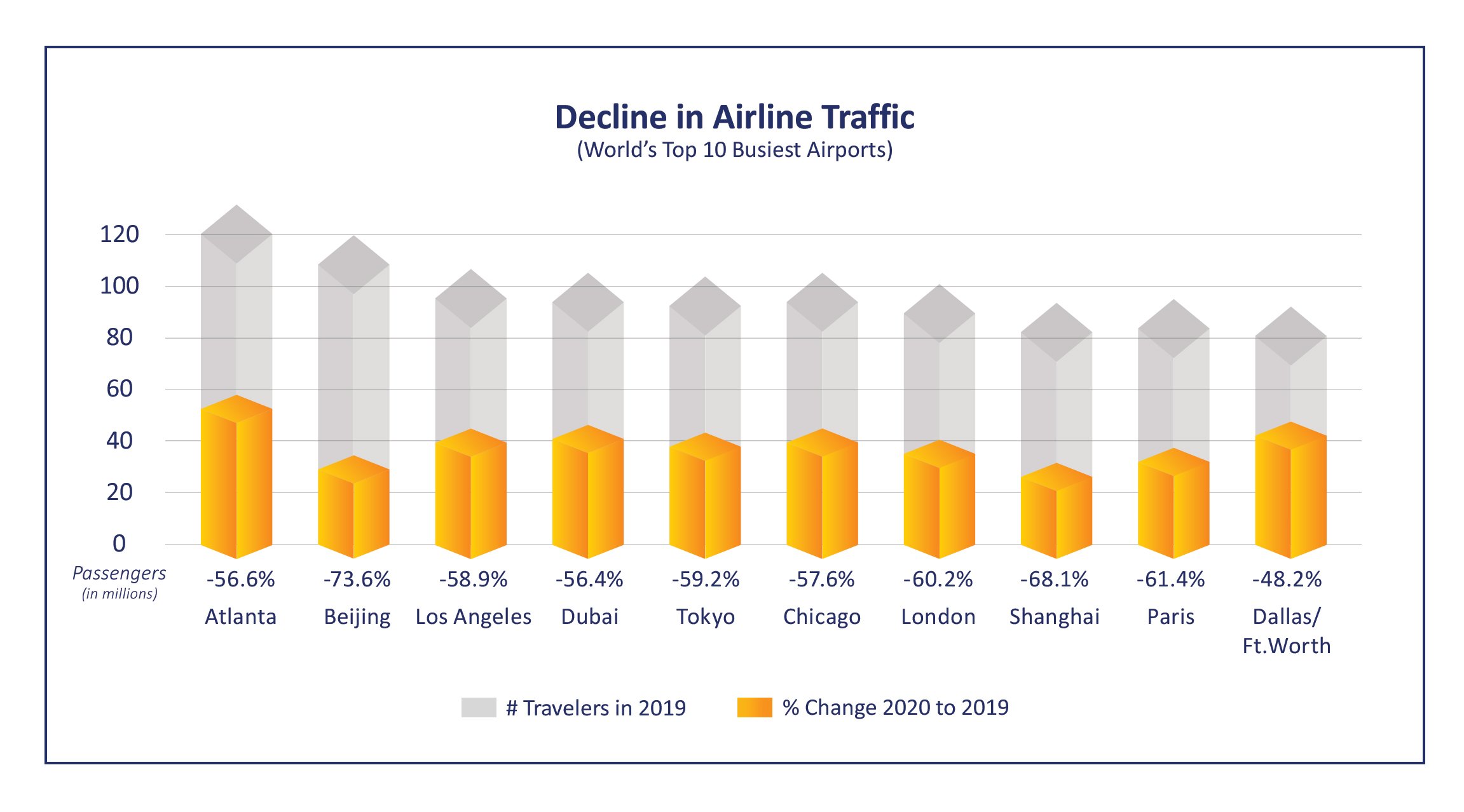 The airline industry is still experiencing steep declines throughout the second half of the year. In September, U.S. International Air Travel fell by 88% from year-ago levels, and U.S. business travel was down 84% due to most sectors continuing to work remotely. An October Travel Pulse Survey by MMGY Travel Intelligence polled 1,200 travelers about their travel intentions amidst COVID-19, revealing that a majority of the respondents cancelled their domestic or international flights during the pandemic.
In addition, the likelihood that they'll fly for leisure or business trips has widely fluctuated since June. This rollercoaster-like volatility has made it exceedingly difficult for hotels to accurately forecast future demand, which is where a proactive labor management system can be beneficial even while volumes are low.
With less travel predictability, hotels will face additional questions as they look to align their staffing levels with interchanging volumes. They must balance over or under spending, while building revenue streams and providing high-quality service. For example, hotel enterprises will need to redefine their labor needs in light of new service demand patterns in various parts of the operation. Room cleaning procedures and frequencies will change. Restaurant won't necessarily need to use multiple kitchens during partial dine-in service coupled with increases in take-out. Grab and go won't just be a singular outlet position, it may well apply to multiple outlets.
Certain workflows and staff responsibilities like cleaning procedures and check-out service will need to be adjusted in order to maintain operational efficiency and COVID-19 safety compliance. Staff will need to be retrained t meet these changes while also expanding some of their responsibilities to ensure guests perceive a safe environment. And finally, the labor management systems must further contribute to an understanding of the employee's perception of the operating environment.
To avoid miscalculating on labor, technology can match projected demand to labor requirements so that the right staffing levels are met and employee engagement/productivity remains high. An advanced labor management system will accurately forecast short-term business volumes, monitor hotel restaurant vs. room-service demand, identify the right changes to make and – most of all -- provide real-time actionable insights for successfully managing the volatility.
Managing Different Labor Needs
External factors caused by the pandemic have significantly impacted employee availability. From schools shifting to virtual that require working parents to be home during the day to less childcare availability, employees will have additional parental responsibilities that prevent them from working certain days, times and shift durations. On the other hand, employees could be forced to take medical leave to quarantine if they contract or come in close contact with the virus. Without flexible scheduling with an advanced labor management system, hotels will find it difficult to quickly adjust to changes in employee availability or unexpected call-offs -- further limiting their ability to maintain operational efficiency and retain experienced workers who are essential for quality service.
By implementing flexible scheduling, hotels can afford employees the option to adjust shift times and durations on a weekly basis. A front desk attendant could work five 8-hour shifts one week, three 12-hour shifts the next week and four 10-hour shifts the third – enabling them to tailor their schedule around obligations outside of work. The A labor management system, which functions fully digitally, streamlines internal communication and automates scheduling changes.
During periods of low occupancy with fluctuating demand, staff levels are typically reduced to avoid labor overspending – meaning there are frequently less labor hours needed to complete a fixed number of responsibilities, at times leading to shorter shift requirements. In turn, hotels that can and do leverage cross-utilization to make up the difference, (a tactic that combines the daily responsibilities of multiple positions into one).
On a staff-wide level, cross utilization requires a shift from job-specific labor to flexible task-oriented labor. The approach fosters staff productivity and engagement across the board while lowering the cost for hotels to provide quality service despite varying occupancy levels. This type of an approach can also be facilitated with adjustments to wage rates based on the number of tasks / positions an individual can handle - commonly known as a pay-for-skill system.
It's impossible for hotels to put cross-utilization to full action with outdated manual labor management processes that don't account for the complexities of the COVID-19 environment. An advanced labor management solution can enable hoteliers to seamlessly integrate cross-utilization into their operations by identifying specific combinations that will generate the most profit and automating wage adjustments on a flexible shift-by-shift basis.
Adhering to New Guidelines
The pandemic has posed a whole new series of meticulous guidelines for employees to execute. From ramped up sanitation protocols to new safety compliance procedures, hotels have been forced to implement different workflows to meet the needs of guests.
Take this UniFocus digital travel impact survey for example, which polled more than 1,150 travelers on how COVID-19 has changed their view toward quality hospitality service. Respondents were asked to rank various practices based on levels of importance, ranging from employees wearing masks and visibly sanitizing open surfaces to guest/employee temperature checks, touchless interactions, and clean room certifications prior to arrival.
The survey also inquired about the impact of restaurant service, room service, fitness center hours and spa availability on the overall guest experience. In the survey results, clean room certifications, pre-shift employee temperature checks, staff-wide mask wearing and touchless interactions – such as check-ins, room keys, elevator use, and food service ordering – all fell on the above average scale of importance.
Accounting for guest preferences to ensure they feel comfortable and confident in their service will impact intent to return and recommend, especially during the pandemic. A labor management system can help management respond more quickly to guest survey data and adjust staff workflows based on their responses. For instance, some guests who are staying multiple days may want their room cleaned every 24 hours, while others prefer housekeeping not enter their room at all. An advanced labor management system can use this information to flex staffing needs, even by day of the week.
Additionally, surveying hotel staff through a mobile application to gather periodic insights on employee safety perceptions can be a critical component of better communications which can ensure improvements in working conditions when necessary.
On a broader spectrum, workforce optimization solutions will be key for hotels to weather the next 6-to-8 months of the pandemic. Just because occupancy levels are low does not mean labor management can fall by the wayside. In fact, the situation calls for the opposite. Amidst the volatility in the marketplace, severe travel reductions and evolving employee/guest needs, the importance of utilizing innovative labor management systems to formulate proactive strategies is more prevalent than ever before. It's just the right investment to make.