Written by Mark Heymann and Published in Hotel Executive - In 2020, we have an unprecedented amount of access to the world directly in the palm of our hands. The rise of mobile technology has completely changed day-to-day life. From talking, texting, browsing websites and perusing social media to checking bank statements, ordering takeout and tracking exercise, nearly everything – and I mean everything – can be done with our phones.
Now look at it from a hospitality standpoint. For hotels, the use of mobile technology can exponentially increase the efficiency and effectiveness of day-to-day operations. At one point, hospitality solely relied on human-to-human interaction. Front desk staff greeted and checked-in guests upon arrival. The restaurant staff and room service runners manually took orders. Guests called hotels to book rooms, and employees called their managers to request time off or coordinate schedule changes. However, those days are in the past as a new world of mobile technology has taken over.
In life, the only constant is change, and how we adapt to it determines our ability to find success. Adapting to new advancements in mobile technology and identifying ways to implement them into both daily operations and business strategies can empower hotels to improve productivity and reduce costs – further strengthening their capability to emerge from the COVID-19 pandemic and achieve long-term sustainability.
Mobile technology also aligns with the behaviors and interests of today's common guest. A survey conducted by Oracle Hospitality showed that 64 percent of guests consider it extremely important for hotels to integrate hospitality technology into the customer experience. Millennials were the first generation to grow up during the smartphone era. They practically live and die by their iPhones or Androids. Approximately 66 percent of them book hotel rooms via a mobile device, and as a whole, the generation is expected to represent 50 percent of all U.S. travelers by 2025. A positive customer experience is now directly correlated to the amount of advanced technology that enhances their stay. Mobile capabilities provide convenient, quality and safer service in a digital age.
By leveraging the utilization of mobile technology, hotels can make significant improvements that foster a strong foundation for long-term sustainability.
Streamlining Internal and External Communication
Mobile technology greatly enhances internal communication. Historically, schedule swapping, calling off, touching base with managers and other frequent forms of communication were done by email, phone calls or in-person. Although now, all of it can be accomplished through mobile apps. Texting enables individuals to communicate on their own time, as opposed to phone calls, which require adherence to the limited availability of both parties. So, in that sense, the window of time for communication increases substantially, allowing the entire staff to remain on the same page.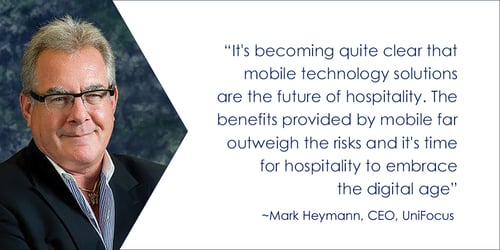 Additionally, mobile technology also improves hotel-to-customer communication. The hotel can provide 24/7 customer service through a mobile app that guests download to their phone. At the push of a button, the app can present answers to frequently asked questions bypassing the need for person to person exchanges or direct them to an on-call customer service representative.
There's also a social media component. Strategic social media marketing, which often relies on mobile, is a critical component to connecting with customers. In addition to posting their own organic content that markets unique offerings and promotes special events, hotels can use mobile technology to constantly monitor social media engagement from guests or prospective customers and respond in a timely fashion.
The ability to offer loyalty programs through mobile apps can help hotels develop effective outreach strategies that foster long-term customer loyalty. Companies can obtain mobile data from their loyalty program customers for notifications that promote targeted marketing content based off their social media behavior, website browsing, purchasing history, interests and location.
Enhancing Operational Efficiency
From an operations standpoint, think of mobile technology as a versatile, multi-dimensional tool that can boost operational efficiency, internal workflows, guest experiences and more. In light of COVID-19, the reality is that forecasting is going to be challenging due to rapidly fluctuating levels of demand. Expected occupancy is changing from week to week and even day to day. This trickles down to the hotel's own internal restaurants by altering service demands and labor needs.
With a mobile application, managers can receive real-time notifications to adjust staffing based on new demands. If a restaurant manager originally expected 100 covers for lunch, the mobile system – which relies on artificial intelligence to provide actionable insights – will alert the manager to expect 150 covers instead. Then, she can proactively adjust staffing to service levels to maintain operational efficiency.
That is just one of several examples that resemble a shift toward proactive decision making. New technological advancements have shifted the spectrum toward real-time actionable information. These applications can take it a step further and help hotels formulate effective workflows. Through simplified directives, the applications will indicate not only what tasks to focus on, but also when to focus on them. Employees will know where they need to be and when they need to be there in order to provide expected service.
Remember when a front desk attendant could only check-in 15 guests in one hour? Well, with the addition of mobile technology, hotels can significantly increase this metric. Some companies have implemented mobile check-ins similar to airport experiences. In these cases, guests don't need to stop at the front desk when they arrive at the hotel; they simply go straight to their reserved room and scan their phone across a sensor that automatically opens the door and checks them in. Seamless check-in/check-outs add an unrivaled convenience factor to the customer experience that guests have come to expect.
Preserving COVID-19 Safety
Over the last six months, we've seen mobile technology play a major role in the hospitality industry's response to the COVID-19 pandemic. For example, utilizing mobile for guest check-ins is one way to significantly preserve employee and customer safety through touchless interactions. Hotels can also use it to support contact tracing, temperature checks, restaurant service, ramped up sanitation protocols and pre/post-shift surveys that collect inquiries on employee safety and health. Meanwhile, mobile thermometers are used to record employee temperatures prior to their shifts and in some cases, even the temperature of guests.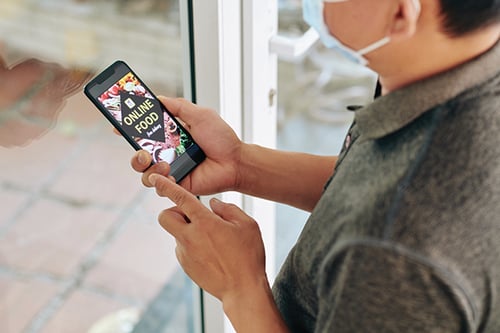 On the restaurant front, QR Codes can be placed at every table, which allow patrons to review the menu on their phones to remove the need for physical menus. In some cases, the QR codes also promote direct ordering, limiting the traditional server/guest human-to-human interactions. At the end of their meal, patrons are then able to pay the bill directly from their phones without card or cash interactions.
Then, there's the hotel customer experience aspect. Through mobile room automation, guests can potentially have total control of almost every aspect of their stay. In addition to a seamless check-in, imagine having an app that you could download from the brand's site enabling touch-free control of many items in your room directly from your phone – whether it's turning down the lights, adjusting the thermostat, changing the TV channel, shutting the curtains, requesting housekeeping or ordering room service. All may not be available in today's environment, but some surely can be implemented immediately amid the pandemic. These types of subtle digital offerings can make a major impact on consumer confidence in the safety of service.
Reducing Operational Costs
As hotels move forward in a mobile world, we'll begin to see more instances of technology replacing certain hourly hospitality positions – similar to artificial intelligence robots in the retail sector, touch-screen kiosks at fast food restaurants and mobile check-ins at airports. Replacing human labor with mobile is an effective way to impact operational costs, as it further enables hotels to manage tight budgets, navigate volatile demand and reduce the cost of labor. However, mobile technology should only be integrated with a delicate balance. It's important for hotels to identify areas of emphasis where mobile can mold well without replacing highly regarded personal service. The human element of a hotel stay will still be important in the eyes of customers, especially after the pandemic subsides and dependent on the positioning of the hotel.
However, there are indeed opportunities where both sides can be combined to reduce operational costs and improve processes. Housekeeping, for example, can leverage push notifications that are sent directly to smartphones to save both time and paperwork. The employees receive real-time insights on which rooms are occupied, which rooms are available for cleaning, and which room needs a rollaway or new towel. Some of these activities are already being done by robots.
A shift to mobile technology solutions also allows hotels to eliminate the costs associated with aging legacy software systems that are complex to operate and often require high updating/replacement expenses. Instead, hotels can pivot to a mobile SaaS cloud-based application that solely relies on the internet to operate. Furthermore, SaaS systems don't require large amounts of upfront capital to install which can help produce immediate ROIs.
It's becoming quite clear that mobile technology solutions are the future of hospitality. From digitally optimized communication to improved operational efficiency, enhanced employee/customer safety and cost reductions, the benefits provided by mobile far outweigh the risks. Above all, it's time for hospitality to embrace the digital age.
Click here to read the original article in Hotel Executive.