September 28, 2017 - Published in Voyage Dallas - Today we'd like to introduce you to Barry Kaplan.
Thank you for taking the time to share your story with us, Barry. Let's start at the beginning. Can you explain a little bit about your journey with UniFocus?
I am what we in the company refer to as a "boomerang," meaning that I worked for UniFocus for a while, left for a time, and then came back. About 10 percent of the company has this designation. It is a testament to the people, and the quality of the software that is delivered to our clients, that employees keep coming back. In fact, when I left in 2000, I always had a sense that I would return.
In the late 1990s, UniFocus was based in Denver. I worked with them for their last two years in that city, prior to their relocation to Dallas. When I was asked to move down to Dallas with them, my father had become sick. My wife and I moved closer to his home near Boston, figuring that if we had to make a big move, it would be for family and not a job.
Because my leaving in 2000 had more to do with a personal situation than a professional one, I remained in contact with the CEO. We would speak every couple of years or so – both of us just waiting for the right time and opportunity to work together again. Finally, in 2011, everything came together. It was an easy decision for me to come back, because when you find someone you respect and learn from, you maintain the relationship. With a career, you should not only love your work, but also do it with people who bring out the best in you.
When I signed back on, it was agreed that I could make it work while still living in New Hampshire. And for approximately one year it did, with me traveling to Dallas for one week of the month. It was tough on my wife and our two small kids (ages eight and one at the time), so we thought we would take a risk and officially make the move. I am a Bostonian by birth, and never ever thought I would like Dallas, but during the year of back-and-forth travel, I experienced enough of what life would be like here that I was all-in for the move. We moved here in August of 2012 and have loved it ever since.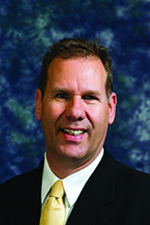 So, as you know, we're impressed with UniFocus – tell our readers more, for example what you're most proud of as a company and what sets you apart from others.
UniFocus provides the best workforce performance solutions to the service industry. What sets us apart is that the company is built upon people who have spent their careers in the hospitality industry and know exactly what it takes to manage performance and productivity at our customers' sites. We also are the only software company tying
labor performance
to the
engagement level
of the employees. One of the key aspects of our business is understanding that
guest satisfaction
, team member engagement and financial performance all go hand-in-hand, and you don't have to sacrifice any one to improve the others.
The thing that makes me most proud, and the thing that made me (and others) boomerangs, is the combination of the people here, starting with the strong leadership team and the stellar products that we sell. Putting great people together with great products makes it a very easy place to work. I may work more hours here than any place I have ever worked, but I also feel like the days fly by faster than any other place I have worked.
Let's touch on your thoughts about our city – what do you like the most and least?
What I like best about Dallas is the friendliness of people, the convenience of living, and the weather.
Everyone here is very nice and very friendly. There is such a strong sense of community, and community pride here that is stronger than in other places we have lived.
The convenience is key. We live in Flower Mound, which is master-planned like most suburbs of Dallas. Within a mile of where we live is a shopping area, a grocery store, restaurants, dentist, bank, etc. And because of the way the cities are laid out, we don't have to leave Flower Mound to get anything we need. Back east, it took me 75 minutes to get to the airport. Now, I am less than 20 minutes door-to-door. For someone who travels about once a month, this is a big deal.
The weather is spectacular. We don't have to shovel snow anymore! My wife and I always say that throughout the year there are more perfect weather days here than in most other places we have lived.
The only downside of living here is that my wife's family is all in Edmonton, and mine is all in and around Boston. As such, we don't all get to share the holidays together. We make up for that by sharing the holidays with our new friends here. We are so close that our children call our close friends "auntie" and "uncle," a tradition we learned in Hawaii.
Click here to view the original article in Voyage Dallas
About UniFocus
UniFocus workforce management software provides all the tools you need to make labor force decisions with confidence. We help you optimize your daily operations with powerful yet flexible tools. Empower leadership and staff to create schedules that maximize customer satisfaction while minimizing wasted labor hours. Better labor management for contingent workforces in the hospitality, restaurants, retail, and healthcare industries. If you're in the market for a better WFMS, contact us today.